Football Manager 2015 Free Editorial Essays
We are part of The Trust ProjectWhat is it?
With Euro 2016 fever building, holidays approaching and the end of the regular football season, it's time to fire up a new game of Football Manager 2016. Mission: to win the European Championship in France.
But who to be? Let's go for a challenge and try to lift the trophy with a team that has never won it in real life. That rules out France, Germany, Spain, Italy and Holland…
But wouldn't it be even better to have a shot at success with a team that has never even played the final? Well, that means that neither Belgium nor Portugal is a valid option. Who should I pick then? England, of course! So be it…
How would England fare under their new foreign coach?
Hoping that the devs didn't code in the penalty thing, I decided to have a go at winning the European Championship with the Three Lions – their best performance is a third place finish in 1968. On paper, that isn't too tough a proposition. Though further reading would show that only four teams competed in the '68 edition of the Euros… Maybe not too impressive after all…
Anyway, let's start the kickin'.
Tactics
Some say that you have to create tactics according to the players you have at your disposal. Well I'm not really a blind follower of that unwritten rule. I'll first set up the three tactics that go with my WIN/WIN style.
I have a 4-4-2 (with two Defensive Forwards), a strikerless 4-2-4-0 and a 4-1-4-1 (again with the annoyingly efficient Defensive Forward role added).
Squad selection
Once the tactics are in place it's time to select the players that are suitable for my style of play. Unfortunately, there was no place for Arsenal duo Danny Welbeck and Theo Walcott whilst captain Wayne Rooney has also been left at home.
Other notable exclusions include vice-captain Gary Cahill, Tottenham's talisman Harry Kane (he lacks pace and crossing abilities, and didn't fit in with my tactical style) and workhorse James Milner. Marc Albrighton, meanwhile, is a surprise inclusion in the squad.
Friendlies
I don't always test my squad, but when I do, I prefer to play against a decent team. Like Germany! I wouldn't read too much into the 5-0 demolition job that my squad performed in the company of the Germans however.
In these matches I wanted to test the level of ambition of certain players and ensure that the squad's morale would be as high as possible before the official matches began. I also scheduled team meetings whenever I thought it would be beneficial for the lads.
Group Stages
Upstairs neighbour Scotland was up first…
Then it was Slovenia's turn to try and stop us…
Sterling then beats a 69 year-old record when he scores 13 seconds into the match…
I can now understand why Dutch fans love Football Manager. Their team qualified in the game and having won our first two games, the only thing left to sort out was who got qualified in first place:
So we finished first, scoring 13 goals and only conceding three. So far so good!
Knockouts
We were then drawn against my home country, Romania, who had finished third in their group…
The Three Lions now go on to break yet another record - the European Championship's biggest ever win. So I've basically listed my home country on the all-time wall of shame. Guess they won't be greeting me with flowers when I get back home…
We were then up against the Czech Republic…
This was no walk in the park. Daniel Sturridge's 121st minute decisive strike came after a wonderful seven-pass combination. The whole nation can't thank him enough for doing that and avoiding the dreaded penalties.
Penalties
We then had to face Italy in the semi-finals, who had just knocked out Belgium on penalties.
Let me remind you that England was defeated by Germany on penalties in the 1996 semi-finals. England were then knocked out on penalties in 2004 against Portugal and in 2012 against Italy, of course. It's fair to say that England fans would be biting a few fingernails…
Revenge, at last! Hart stood firm to deny Balotelli, Verratti and Santon. It all went well from there (apart from Wilshere and Sturridge missing theirs). If you doubted that anything is possible in Football Manager, this is your proof: England won on penalties!
The final
The Netherlands knocked out Germany and then lost to France. So we had to face Les Bleus who had only conceded one goal so far in the competition.
And: Jamie Vardy's having YET ANOTHER PARTY after scoring the winning goal in the first minute!
The best player award, meanwhile, went to…
Team of the tournament? Voila.
And top scorer…
Best Football Manager 2016 Wonderkids
Val has written a free guide to Football Manager 2016: FM 16 - Can't Win To Champion. Check it out for tactical advice, team talk strategies and more.
More Football Manager 2016 • More gaming • More features
Like previous entries in the series, Football Manager 2016 allows you to interact with players and board regarding important (and even not-so-important) decisions. These conversations tend to get a bit predictable, because it's pretty rare that you want to anger or annoy someone on your staff or your direct employer. Unless, that is, you're doing some deep role-playing. Perhaps as some kind of managerial nightmare combination of Leeds United era Brian Clough and a vindictive moron.
Ladies and gentlemen, I present to you Mr. Andy Hole. He's the new manager of Spanish side Villarreal (the team who happened to pop up on top of the Google search when I put in "friendliest football club in the world"), and he's ready to lose his job incredibly quickly.
It's not possible to play Football Manager 2016 as an actual, clinically diagnosed sociopath (of course), but I'll be doing my best with the choices available. If you want to read the conventional review of the game, that's over this way.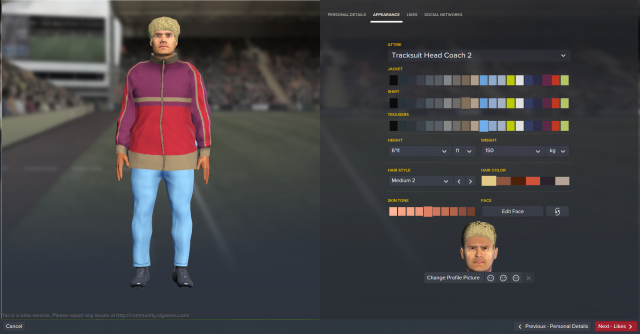 Fresh from a suburban hand-tanning bed, Andy is here to lead.
Andy has no coaching badges and almost no playing experience. He believes his intuitive belligerence and no-nonsense common sense approach to being as unpleasant as possible will be more than enough to motivate eleven losers to run around on some grass.
The first order of business is to meet the chairman (who helpfully tells Andy to "ignore media claims he's too inexperienced for the job") and other members of staff. I tell the board I know everything about the club already, have no specific tactical philosophies, and want to delay any further meetings until tomorrow. Mr Hole intends to spend the rest of the afternoon smoking a gigantic cigar with his feet on his desk.
Andy tells everybody who will listen that Villareal (predicted to finish 7th) are absolutely going to win the league and do awfully well in the cups to boot. Failure will not be tolerated.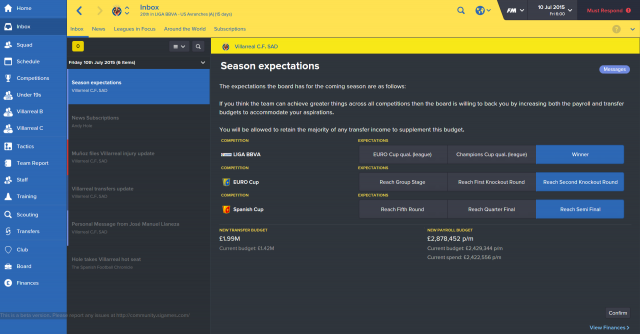 Why yes, of course Andy can win everything.
Generously, the board react to this by giving Andy more money to spend. He immediately sets about scouting the most expensive player he can find with the name "Andy", and offers almost the entire transfer budget for him.
The manager needs to be out there kicking every ball. Andy reasons that having a namesake out on the pitch is the next logical step in this metaphor.
With this key future asset surely secured, it's time for Mr Hole to meet the existing squad. After re-stating that Villareal can win the league this year and getting a positive response from most of the team, he tells them "I have to say I'm disappointed with that reaction".
Morale takes a slight dip, but it always pays to keep the players on their toes.
Player-Andy's agent shows up looking to negotiate. Mr Hole increases Player-Andy's salary by a factor of ten and assures him a place as a key player. That seems to do the trick.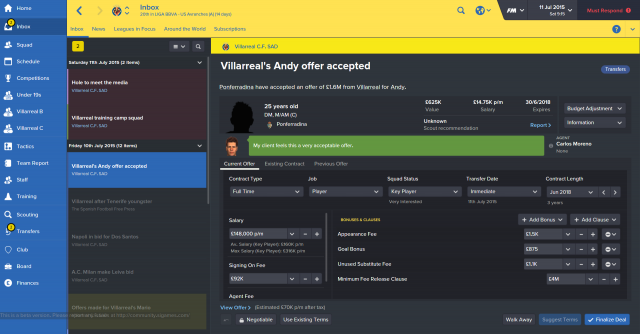 In a perfect world, all of the players would be named Andy. But this is a good start.
Time for Andy Hole to meet the press and further undermine his relationship with the chairman. Does Mr Hole feel the expectations placed upon him are realistic? Absolutely not. Does he feel as if he has enough experience for the job? Of course!
Then Andy is asked about head coaches and decides to storm out of the press conference for dramatic effect.
In a busy next day, Player-Andy signs for Villareal, young left-winger Leiva asks for a new contract in light of AC Milan's interest (Andy tells him to fire his agent, he refuses), and the media run with the slightly dubious headline of "Hole blows top".
Come on son, that agent's no good for you.
Mr Hole refuses to speak with Leiva about a new contract. Fan reaction to the expensive signing of Player-Andy is mixed, with doubts raised about the size of the transfer fee "not just among supporters, but the wider soccer world".
After Andy refuses a few more transfer offers (nobody's leaving this wild ride), the assistant manager reminds him that they had a meeting scheduled a while ago. Apparently he'd prepared some kind of in-depth report about the squad. He wasted his time, Mr Hole doesn't need any of that fancy continental paper-work.
Andy doesn't care about your so-called "allies".
Leiva shows up again, pissing and moaning about not being allowed to leave for Manchester United. Mr Hole tells him the bids are being rejected "for his own good" and that "he's going nowhere". Leiva tries a bit of brinkmanship by claiming he has good friends in the squad who will be upset at his treatment. Andy tells him to shut up and stop whining.
Next, the media try to spoil the unveiling of Player-Andy with all sorts of irritating questions about whether he's been over-priced. Mr Hole tells them they know nothing about football.
Some other upstart called Rodri shows up, wanting a better contract. He says he'll start complaining to the press if he doesn't get more money. Andy assures him he'll be getting no such thing.
Sure enough, the media then come knocking, wanting to know about Mr Hole's unorthodox approach to man-management. Andy makes a passionate and slightly fascistic speech about "strong leadership and unwavering confidence". That should hush them up for a bit.
Or not. Oh well, this should let them know not to get too comfortable.
Andy Hole's next move is to issue a club-wide rejection of all incoming transfer bids until further notice. Questions about unhappy players from the media get the "no comment" treatment.
Leiva decides not to show up for training. Mr Hole fines him two week's salary (probably enough to fund a small nation). Pleasingly, the player accepts this decision and says he'll try to adjust his behaviour.
The rest of the squad return from a pre-season training camp in Austria muttering about squad harmony taking "a dramatic turn for the worse".
Clearly they just need a nice, friendly match against lower-league French side US Avranches to cheer themselves up.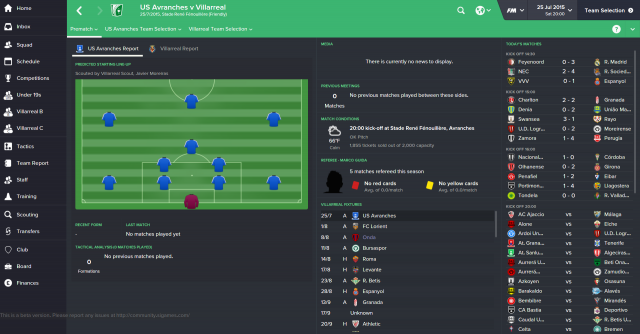 A team so spectacular their players don't even have shirts with squad numbers.
Mr Hole unceremoniously drops the players who've been whining about wanting to leave the club. He also drops all loan players, deciding he wants to nurture home-grown talent where possible. Unfortunately this leaves Villareal without a proper goalkeeper and only two substitutes. Plucky 31-year-old Serbian wing-back Antonio Rukavina gets the nod for the gloves.
Confident in the abilities of his new signing to overcome all obstacles, Mr Hole builds his tactics around the attacking midfield talents of Player-Andy. This magnificent "Enganche" will be the team's prime creator. The rest of Andy's tactics are an eclectic mixture of route-one hoofball and expressive, fluid attacking intent.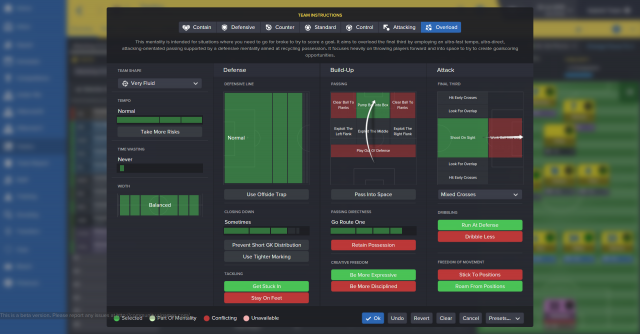 Goals galore, guaranteed.
What could possibly go wrong?
"A lot", the pre-match analysis suggests.
Following the mantra that marking is the key to keeping things solid, Mr Hole orders his players to mark every single opposing player tightly. Including the goalkeeper. He then aggressively tells his players he expects nothing but a win from this match. Several of the team "switch off" in response.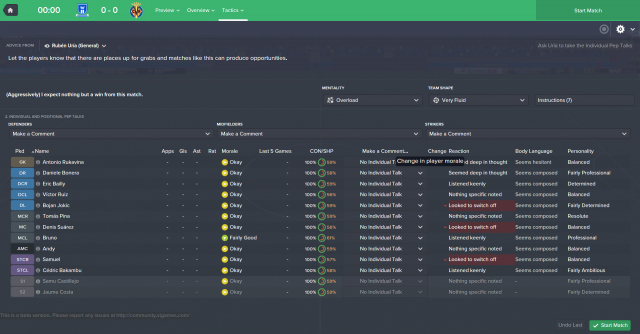 It's almost as if they don't respect their angry, unknown manager.
In spite of these careful instructions, US Avranches take the lead after five minutes.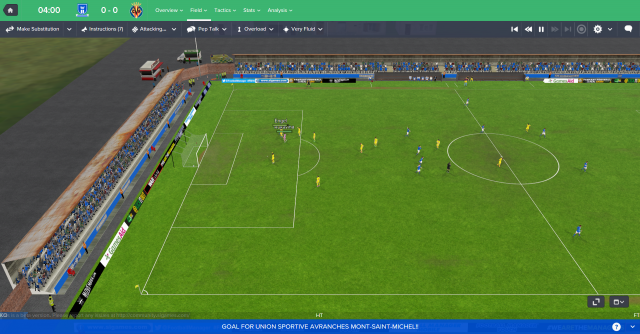 It's just a blip lads, I'm sure.
Hole's lads get back in it though, with a fine equaliser on ten minutes by Samuel.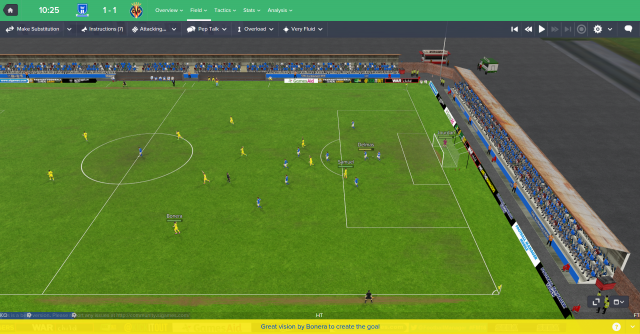 See, nothing to worry about.
Andy's cowardly assistant suggests the team may be getting slightly over-run in midfield. He is rightfully ignored.
The fruits of his ignorance ripen when Villareal grab a second goal on 25 minutes. "We're surprisingly ahead" he offers, meekly.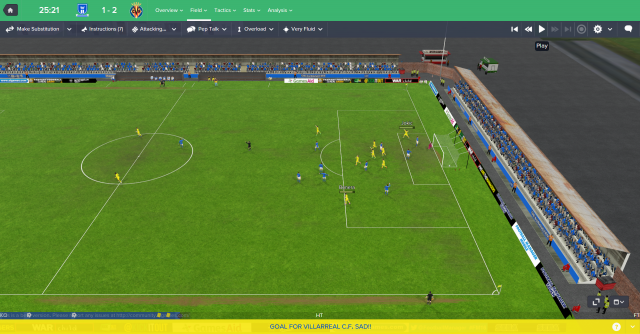 Never doubt the vision of Andy Hole.
Half-time. Disgusted that his team conceded a goal, Mr Hole aggressively informs them that he's far from happy by what he's seeing out there.
Striker Cedric Bakambu is so fired up by Andy's incredible powers of oration that he gets himself sent off for a violent tackle in the 61st minute.
This is what happens when most of your team talk is variations of "GET STUCK INTO 'EM".
That's bad news for the rest of the team, and the dogged persistence from US Avranches gets them a second goal.
I wish I could zoom closer to see Andy doing his nut on the sidelines.
Andy aggressively urges his team to get forward. Thanks to this stirring appeal, Villareal end up getting a penalty. It's promptly dispatched by Bruno in the 77th minute of the game.
Never in doubt.
The team see out the rest of the match with no drama, and Andy Hole's tactical genius is rightly acknowledged by the assistant coach who says we "can be proud of that result" against the mighty third division French outfit.
Mr Hole tells the lads it was unacceptable anyway, just to keep them hungry. Nobody seems to mind all that much. They mostly seem confused.
The media suggest Villareal were "not at their best". Oddly, there's no room in the report to mention a Serbian wing-back playing the whole match in goal.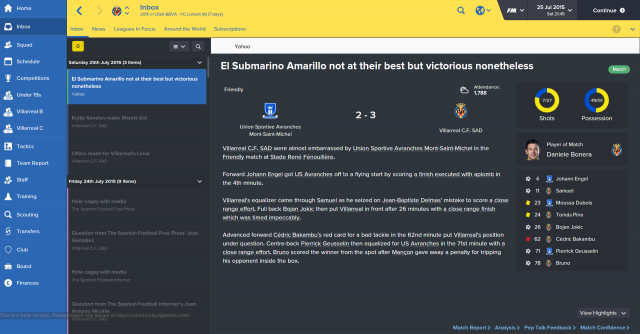 Hey, a win is a win.
Satisfied that he's got things all figured out, Mr Hole goes on holiday for four weeks until the first proper league game against Real Betis. While he's away, Villareal lose four out of five friendlies, including a 4-1 battering by Roma. One of Andy's 63 emails suggests the club have sneakily accepted some loan offers for Leiva in Hole's absence. He cancels the deal. No compromises. No-one escapes.